Come and See
1 in 5 people watching church online during the pandemic didn't regularly attend before the crisis.
Come and See is a free online experience to help everyone find out more about the Christian faith.
You might also like to try the contemplative practices below.
Stilling
In our busy world, we often forget the ancient wisdom that we are human beings not human doings.
Download the guide.
Dwelling
This practice is about the way the Bible can 'come alive' as you read it.
Download the guide.
Mending
As we move through these practices, we touch on some of the more difficult aspects of life.
Download the guide.

Noticing
Noticing apparently small and insignificant details of life can help us realise that they are actually signs pointing to personal, spiritual and community truth.
Download the guide.
Blessing
How can you flourish like a beautiful tree? The Bible starts and ends with the tree of life. In this practice we use the tree of life as a symbol to think about how we can be blessed, and how we might bless others.
Download the guide.

Watch the fifth weekly film from Bishop Steven.
Some people spend their whole lives trying to discover what is important and valuable – what really matters in life. Some stumble across it almost by accident.
The final lines of the Creed remind us of the blessings which are ours in Christ, offered to us by God, free of charge.
Where Next?
As we reach the end of the journey, you may be wondering where you should go from here – what are the next steps in becoming a Christian, or reawakening a forgotten faith?
Bishop Steven offers some prayers to say alone or with those who have journeyed with you. Take some time and make them your own.
If you would like to discuss your thoughts about "Come and See" you can join the Benefice online group or chat one-to-one with one of the ministry team. See below for details.
Who is it for?
Come and See is an invitation to everyone, for everyone. It's for anyone who feels adrift in this pandemic, whether or not they know anything about the Christian faith.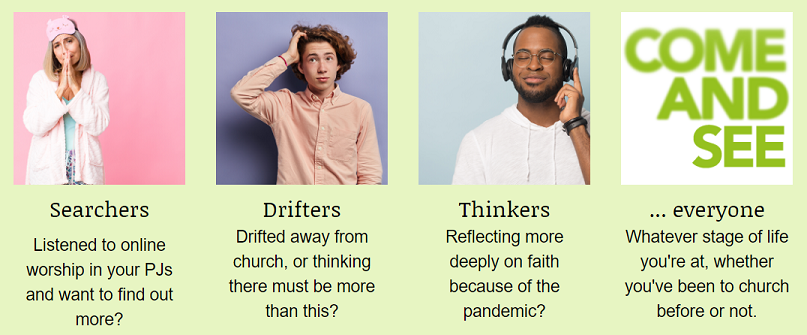 How do I join in?
There are daily reflections and weekly videos which are added to the Diocese website as they are published, or you can sign up here to receive them by email.
Come and See started on 17th February but you are welcome to join at any time.
Can I join an online group?
For those who would like to meet, virtually by Zoom, we are laying on 6 sessions over Thursday evenings, and Saturday breakfast-time (dates and times below). These will provide an opportunity to discuss the reflections, videos and podcasts, and how we are reacting to what we are discovering about God, and ourselves through "Come and See". Email Lucy Laird to receive a Zoom link to enable you to join us.
Thursday from 7:30pm – 8:45pm on 25th February, 11th and 25th March
Saturday from 8:00am – 9:15am on 27th February,13th and 27th March
Prefer to chat one-to-one?
If you would like to discuss your thoughts about "Come and See" one-to-one please contact one of the ministry team on the numbers below.
Rev'd Norma Fergusson 01793 784338
Canon Paul Richardson 01793 710241
Richard Fergusson (Licensed Lay Minister) 07788 436831
Downloadable PDFs
Download - Come-and-See-stilling-exercise.pdf
Download - Come_and_See_dwelling_exercise.pdf
Download - Come-and-See-mending-exercise.pdf
Download - Come-and-See-noticing-exercise.pdf
Download - Come-and-See-blessing-exercise.pdf

Watch the fourth weekly film from Bishop Steven.
Sometimes God can feel distant and far away, and the truths about God can seem hard to take hold of.
When we feel worn down by life, the Holy Spirit can bring us comfort and peace. But how do we actually experience the Holy Spirit at work in our lives?
Watch the third weekly film from Bishop Steven.
Even on the best of days, there are shadows in our lives – darkness created by our human tendency to mess things up. There's a shadow at the end of our journey too. The Bible calls it 'the shadow of death.'
The third part of the Creed makes the remarkable claim that Jesus rose from the dead, three days after he was crucified. What does that mean for the darkness within us? What lies beyond that final shadow?
Watch the second weekly film from Bishop Steven
When all around us is in chaos, coming back to the Father can help us recover a sense of identity and purpose. But what's the next step on our journey?
The four gospels – Matthew, Mark, Luke and John – unfold the powerful truth of Jesus. But they weren't written to simply tell us about him – they invite each of us to take the next step and follow Jesus for ourselves.
Watch the first weekly film from Bishop Steven.
As far as we know, we are the only part of the whole universe able to consider the cosmos and its meaning. But who gave us that desire - the need to know and understand what we are created for?
From the very first line of the creed, we place our faith in God, the creator of heaven and earth. But God is more than just our maker – from all across the universe, his great love is calling us home.
Bishop Steven's invitation to Come and See.
Matthew's story.
Nour's story.
Dom and Katie's stories.